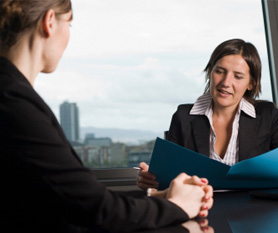 Do you ever think about your job search from the employers' perspective?
Most job seekers don't… understandably so. They are most focused on looking for an opportunity and presenting themselves in the best way they can to get that coveted job offer.
The focus is generally on themselves though, and they don't give much thought to what the experience is like for the employer. That perspective may help you present yourself in a way that sets you apart.
When you arrive for a job interview, it's likely your first interview there on that day. For the employer, however, you may be the fourth interview that day out of six they have scheduled.
While you may be glad to meet them, they are beginning to feel like all the candidates they've met so far are pretty much the same. They don't necessarily recall all the things they liked about one person over another.
If you're one of several candidates they're meeting, how do you help the employer connect with you in a unique way compared to the others? Here are some suggestions…
Be prepared! Most job seekers don't prepare very well for interviews. They vaguely think about how they will answer various questions, however, they've never gotten specific.

Write out answers and hone your sentences to be succinct and direct. Practice, practice, and practice some more. Have several stories of past experience and situations at your ready so that you can weave them appropriately into other questions. A well prepared candidate stands out every time.


Dialog! While most candidates have questions prepared for the end of their interview time when they are asked about questions they may have… very few interject questions in the interview to create a dialog. The best interviews are 2-way conversations and it's also one of the best ways to set yourself apart.

Asking appropriate follow up questions after answering one is a terrific way to engage the interviewer in a way that most candidates don't. For example, if you are asked…

Can you give me a time you were able to complete a project successfully as part of a team?

You might respond with your answer, and then…

Can you tell me more about the team that I would be working with?

A give and take dialog throughout the interview becomes more of a peer-to-peer conversation and shows that you have a greater ability to communicate and greater interest than other candidates.


Ask for next steps! Few job seekers are willing to ask tough questions at the end of an interview. You will set yourself apart if you do. Asking things like…

Based on our conversation here today, do you expect I will be asked back to continue in the process?

Are there any concerns you may have about my background or fit for the role that would prevent me from being further considered?

If I don't hear from you soon, when would be the best timeframe for me to follow up regarding next steps?

You may not always like the answer you get, but at least you know rather than wait indefinitely for a call that may never come. You may not always get a definitive answer at all, however, you have shown that you're willing to be direct, take initiative, and be more proactive than the vast majority of other people they're speaking to.

When you're their 'fourth interview today' you have to do things differently than everyone else in order to stand out from the others they've seen. Consider the process from the employers point of view, and you'll see the importance of differentiating yourself!
---
RELATED ARTICLES:
Your American Idol "moment" in your job interview!
Interview (not so) common sense
Five Ways to Shine In A Bad Interview
---